3 Places to Go Sunset Chasing at Lake Guntersville
Is there anything more awe-inspiring than watching the burning sun sink slowly into the horizon? The answer is no—unless, of course, you're lucky enough to be near the water! There's something particularly breathtaking about watching as that blaze of orange slips silently into the open water. When visiting Lake Guntersville, relaxation is your full-time job, which makes sunset chasing a big part of your daily to-do list. In the wise words of Turkish playwright Mehmet Murat Ildan, "When the sun sets, leave whatever you are doing and watch it." Here's our guide to some of the best places to follow that exact advice at Lake Guntersville.
1. Guntersville State Park Lodge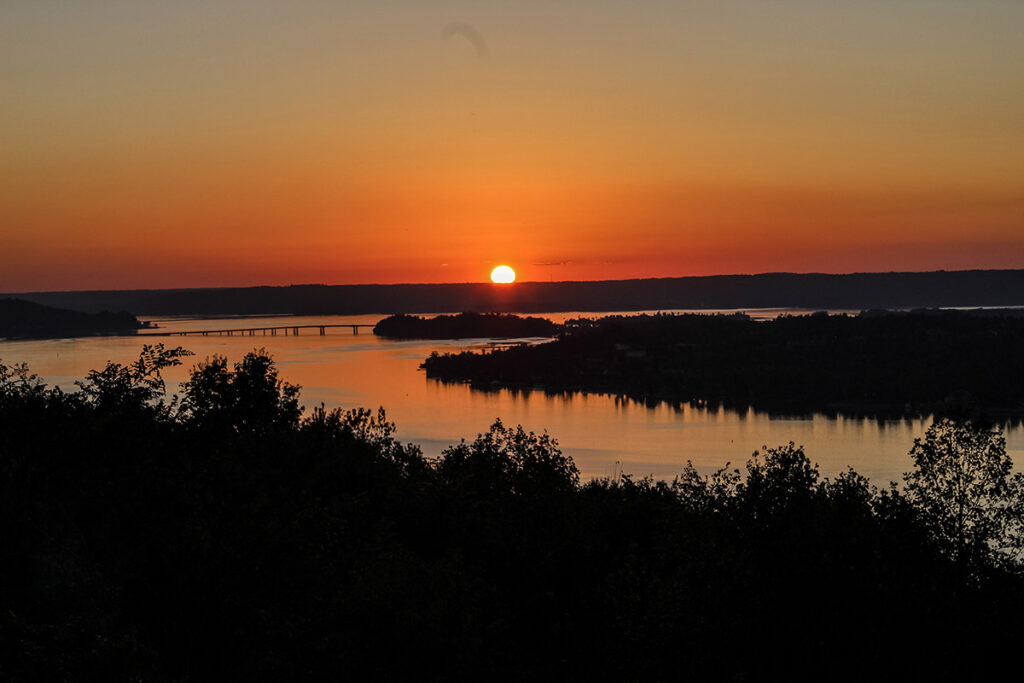 With 6,000 acres of natural woodlands surrounding the 69,000-acre Guntersville Lake, Guntersville State Park offers ample space to find peace, solitude, and serenity while taking in the sunset. Though any patch of green will do when you're looking for a place to watch nature's big show, gain higher ground for a truly unforgettable experience. Perched on the brow of Taylor Mountain, the State Park Lodge is ideal for sunset chasing. Whether you book a lake-facing room inside the Lodge or join day visitors on one of the lodge's two expansive back decks, spectacular views are certain.
2. Sunset Drive Walking Trail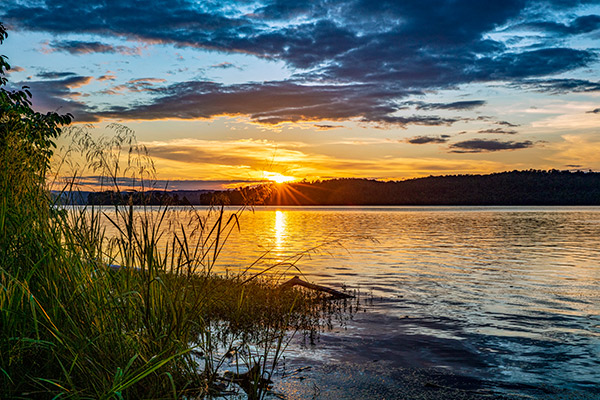 With a name like Sunset Drive, there's no question about the quality of golden hour views to enjoy at this Guntersville amenity. The 3.4-mile waterfront greenspace features a curvy paved trail that's friendly to pedestrians, as well as bikers and skaters of all kinds. With plenty of places to park all along its path, Sunset Drive is the perfect place for an impromptu picnic or a lazy evening stroll where you'll feel like you're walking straight into the setting sun.
The full Sunset Drive Linear Park System is divided by the Highway 69 causeway, and each half has its own distinct qualities. The north side features a dramatic view of the Highway 431 bridge, plus a fishing pier, farmer's market, dog park, skate park, and playground. The south half features the city's recreation center as well as public beach access.
3. Jules J. Berta Winery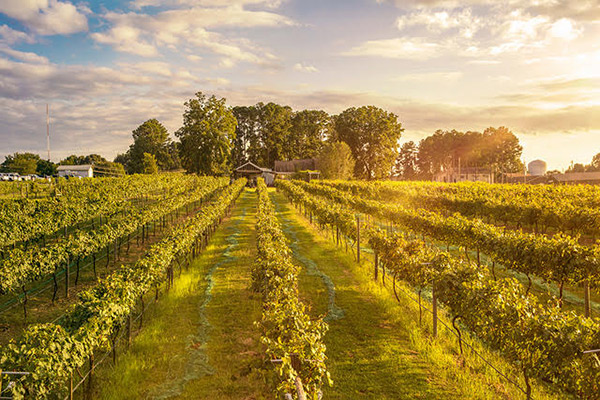 Though this sunset location doesn't offer waterfront views, it does offer wine—and we think that's a pretty good substitute. This winery in nearby Albertville opened in 2008 but has roots dating back to 1983 when owner Jules Berta's father moved to north Alabama with the dream of creating wine country. The expansive winery offers 20 different wine varietals, plus wine slushies and wood-fired pizzas, all set against the backdrop of rolling green hills speckled with lush vineyards. The winery is open until 8 p.m. on Thursdays through Saturdays, which means you'll have just enough time to savor a glass (or two!) of wine while you enjoy the sunset.
For lovely accommodations to retire to after you've had your breath taken away by the blush hues of the sinking sun, please click here today.