4 Restaurants with a View on Lake Guntersville
Taking advantage of Lake Guntersville's natural beauty doesn't have to end when the dinner bell rings. Our guide to al fresco dining on Lake Guntersville offers the best of both worlds for visitors and locals alike. We're talking picture-perfect views (watercolor sunsets included!) and super-fresh seafood that won't let you forget that you're lake living now.
1. Pinecrest Dining Room at Lake Guntersville State Park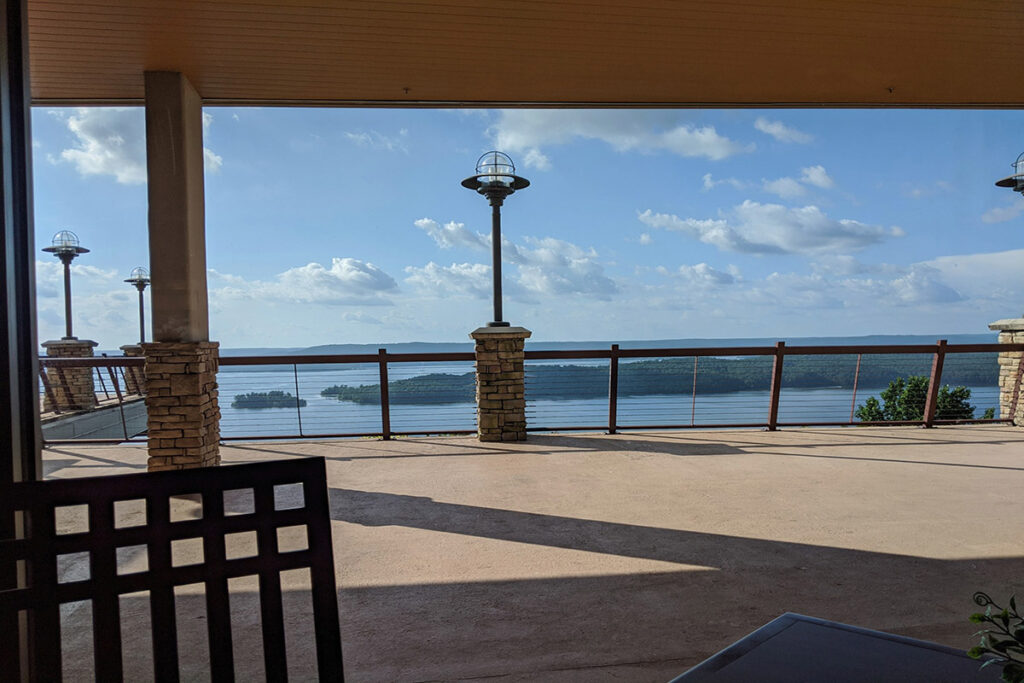 Perched on the brow of Taylor Mountain, the Lodge at Lake Guntersville State Park delivers a breathtaking view of pine and hardwood treetops leading out onto the serene lake. The views are so inspiring that special occasions, including many a wedding and rehearsal dinner, have been hosted on the lodge's expansive lower deck. The Pinecrest Dining Room's back wall is entirely windowed, meaning you get uninterrupted views of the lake while you dine for lunch or dinner. This restaurant features a classic menu of Southern and seafood specials like shrimp and grits, hamburger steak, and fried catfish. If you're visiting on a weekend night, opt for the seafood buffet (Fridays) or barbecue buffet (Saturday). If you're more of a sunrise diner, the country breakfast buffet (hello, biscuits and gravy) might be your choice.
2. Fire by the Lake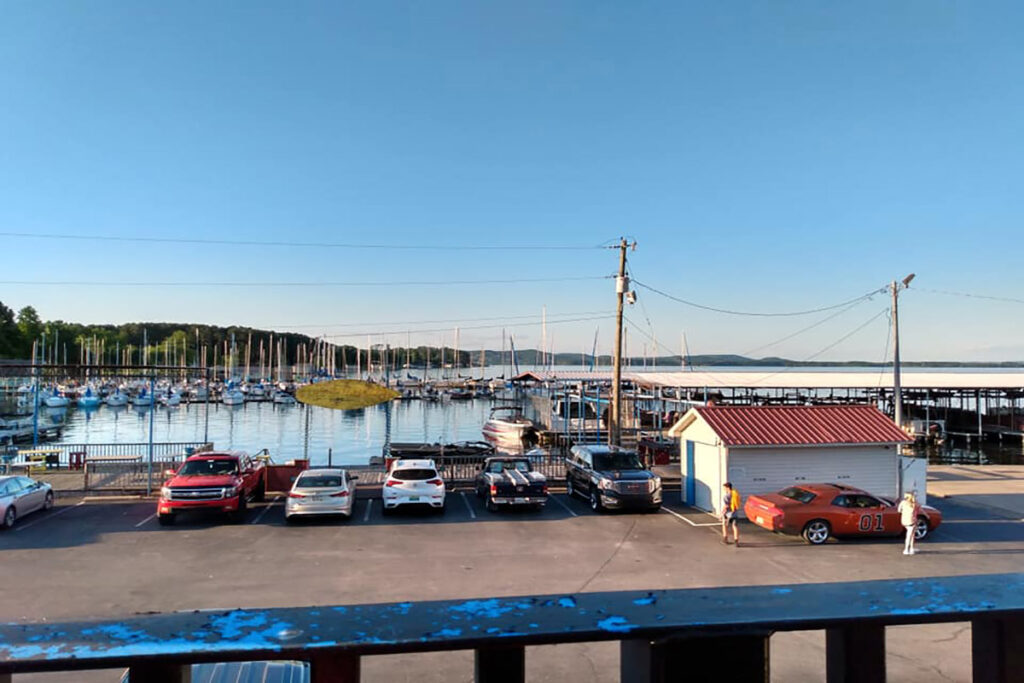 If you're looking for a casual bite with waterfront views, Fire by the Lake is your spot. This American eatery opened in 2017 and has since become a hot spot for live music, great happy hour specials, and tasty dishes. Watch the jet skis zoom by while tucking into a perfectly cooked steak or the blackened tuna dressed in the restaurant's signature lime sauce. Early birds looking for a happy hour cocktail and bar snacks should look into The Mess (French fries smothered in three-cheese sauce, tomatoes, bacon, chives, and ranch) or Bang Bang Shrimp.
3. Wintzell's Oyster House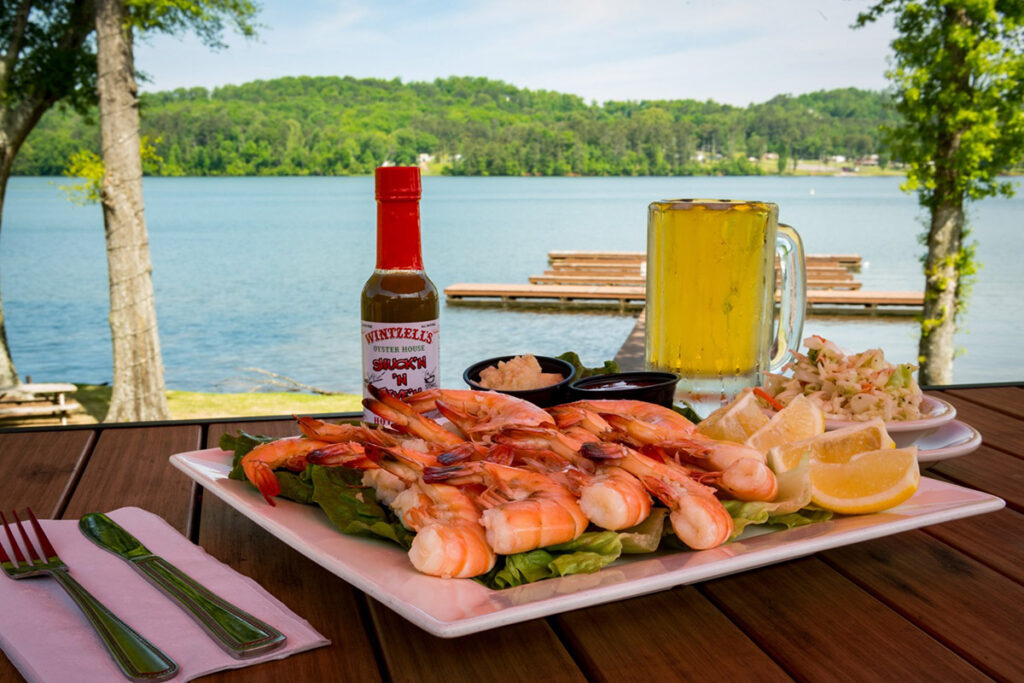 Whether on the Gulf Coast or near inland lakes, no restaurant is more synonymous with waterfront dining than Wintzell's. Founded as a six-stool oyster bar in 1938 in Mobile, 80 years later, the tiny operation has transformed into one of Alabama's most recognized names in seafood. At the Guntersville location, you'll be transported to simpler days from your table inside a screened-in porch overlooking a grassy lawn and the lake. Wintzell's best dishes show off the franchise's bayou roots. Try the Gumbo, Bienville Oysters, or Lowcountry Boil for an authentic taste of Cajun cuisine.
4. The Boat House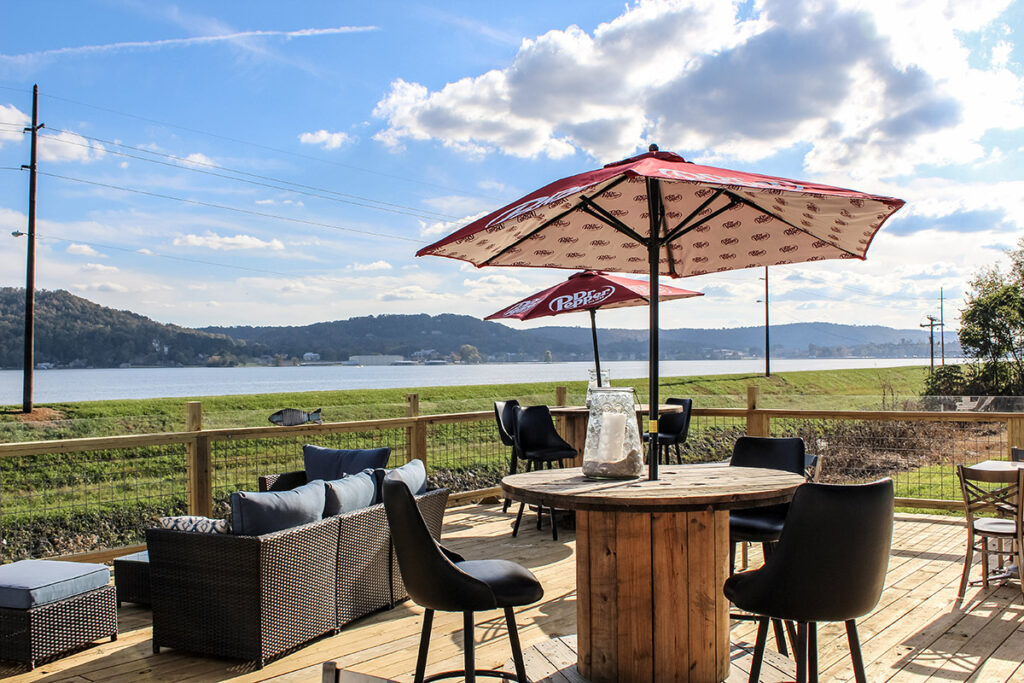 The Boat House may be the new kid on the block when it comes to waterfront restaurants in Guntersville, but what the restaurant lacks in age, it more than makes up for in punchy personality and good vibes. Husband-and-wife team Brian and Lucie Keck made their vision of a laidback lakeside eatery and boat parking lot a reality in October of 2020 and have become a runaway hit in the six months since. Part of what makes this modern, light-and-bright restaurant so popular are its unique menu items that span the globe. Order the Greek French Fries (topped with feta, Tzatziki sauce, and green onions) for the table to share over a cocktail like the Deep Blue Sea Martini or Rum Runner. For dinner, the Korean BBQ is a must. The slightly-sweet, marinated meat is chargrilled to perfection, so you get the perfect tender bite to pair with white rice and stir-fry veggies. A vinegary crunch from the accompanying Asian cucumber salad rounds out the dish.
For more ideas about what to get up to in and around Lake Guntersville, click here today.