15 Things to Do this Christmas Around Lake Guntersville
It may sound cliche, but it really is the MOST wonderful time of the year! You may think of the Lake Guntersville area as a summer destination, but at Christmastime it truly is magical. From Christmas Open Houses to millions of Christmas lights, there is something for everyone to do when you choose to #explorelakeguntersville this holiday season.
1. Santa in the Village
Starting Black Friday, the Arab Historic Village comes to life with Santa in the Village. For five consecutive weekends, guests can experience Christmas magic at the Village. You can meet Saint Nick, grab reindeer food and even see blacksmiths work on reindeer shoes. The cost is $6 per person. Children 2 and under are free. For complete information, click here.
2. Christmas in the Park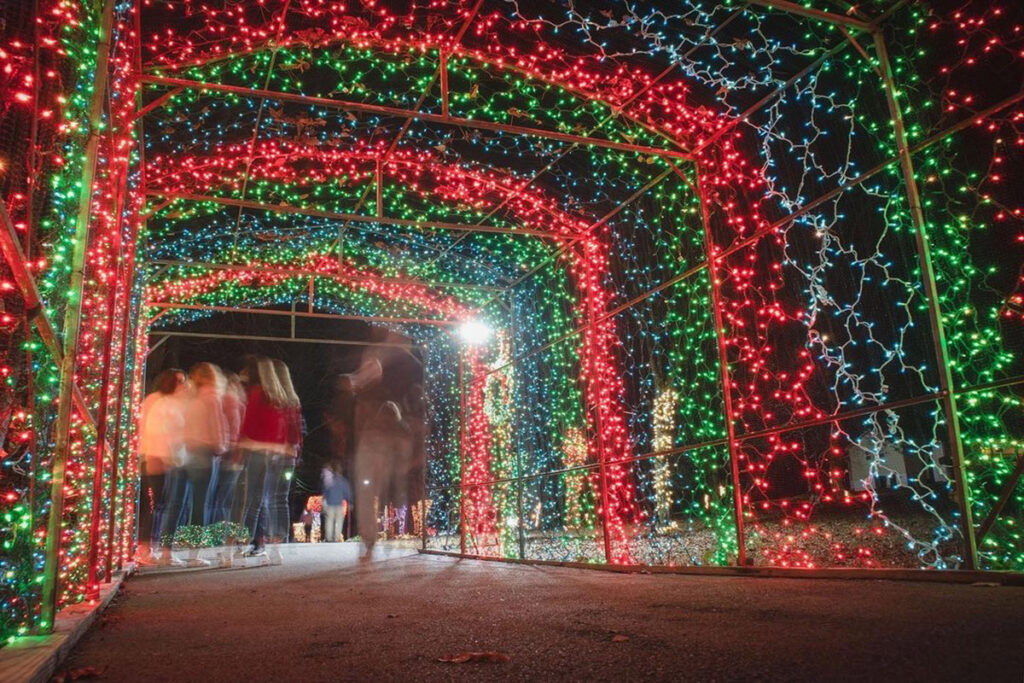 Adjacent to Santa in the Village is Christmas in the Park. Walk through the Arab City Park for free and enjoy over two million twinkling lights decorated to bring the most holiday cheer. Christmas in the Park is open from November 24 through December 31. The lights turn on nightly from sundown until 9:30 p.m. weather permitting.
3. Downtown Boaz's Dashing through Downtown
The first of many Christmas shopping events starts in Downtown Boaz. Vendors will line the streets with their holiday trinkets. There will be live music, yummy food and even some SNOW! It is November 10-11 from 11 a.m. until 8 p.m. both days.
4. Downtown Albertville's Christmas Open House
On November 17 through 18, Downtown Albertville turns into holiday cheer! There will be carriage rides through town, cookie decorating with Mrs. Claus and, of course, lots of shopping in the local shops. Join the fun on November 17 from 5 p.m. until 8 p.m. and November 18 from 9 a.m. until 2 p.m.
5. Tree Lightings
Who doesn't love a giant tree being lit to kick off the holiday season? Downtown Albertville will do theirs following their Thanksgiving/Christmas parade on November 16. Downtown Guntersville's tree will be lit on November 28 at 5:30 p.m. The City Harbor and Downtown Boaz will have tree lightings as well.
6. Christmas Parades
Each of our wonderful cities are hosting their own Christmas parades. Albertville's is planned for November 16 at 5:30 p.m. Boaz will have theirs on December 1 at 5:30 p.m. Arab's parade will kick off at 6 p.m. on December 7. And Guntersville's Christmas parade will be December 9 at 5 p.m. Following Guntersville's regular parade, a boat parade can be seen from City Harbor.
7. Night Before Christmas in Downtown Guntersville
Downtown Guntersville's main shopping event is planned for December 2 from 4 until 8 p.m. All shops will be open as well as free entertainment for the children in your lives including train rides, face painting and more! Attendees can also see a live Bethlehem, too!
8. Sand Mountain Skate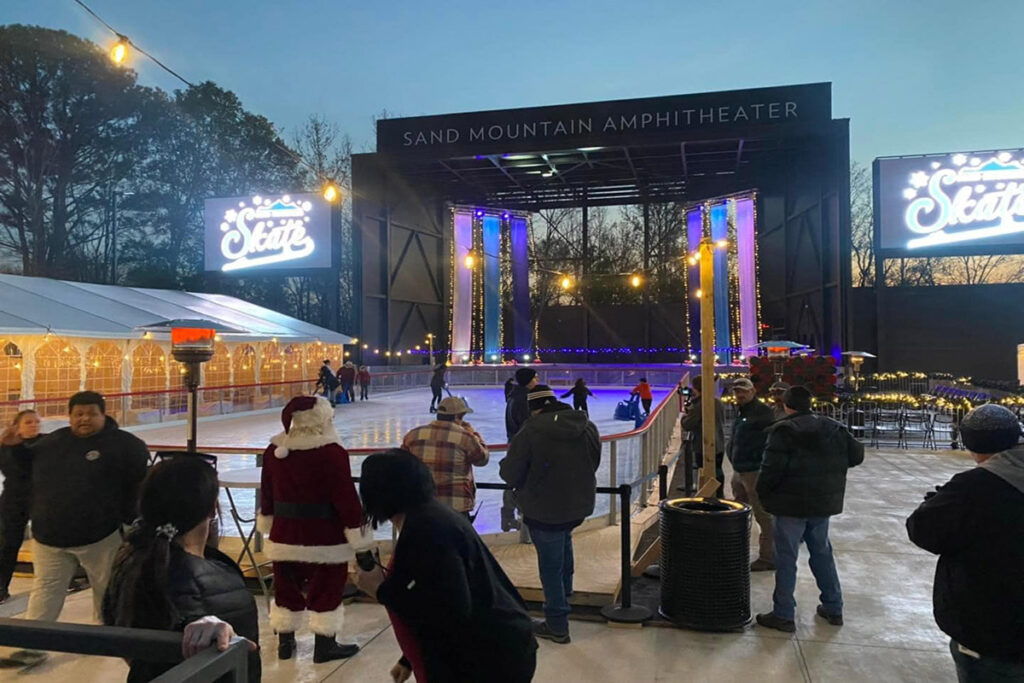 Grab your gloves and grab your scarves for Sand Mountain Skate. North Alabama's largest real ice rink opens November 18 in Albertville. You can bring your own skates, or they have some available for rent. It's $14 with rental skates or $7 if you have your own. There are also yummy treats available as well shopping vendors on site this year.
9. Festival of Trees
The Guntersville Museum has some of the most beautiful display of Christmas trees. Each year local organizations bring their own Christmas trees and decorate them to a theme. This year the display will be open from November 16 until December 31. This is free to the public.
10. Christmas Play at the Whole Backstage
In celebration with their 50th year, the Whole Backstage Theatre is hosting two Christmas plays this season. A Tuna Christmas is a hilarious tale from Tuna, Texas that will leave you on the floor from laughing. Elf Jr, the Musical will also be in production during the holiday season.
11. Frazier Farms
You are in for a treat with the stunning Christmas light display at Frazier Farms in Albertville. Drive up from the comfort of your car and tune your radio in to catch the lights dancing to the songs playing. This kicks off November 24 and lasts until December 30.
12. Hot Chocolate at Four Knights Coffee
If you plan on walking through Christmas in the Park, then you must grab a hot chocolate first. Four Knights Coffee in Arab has some of the best hot drinks that will keep you warm this holiday season as well as yummy treats to snack on as well.
13. Tinsel Trail at the Old Mill Park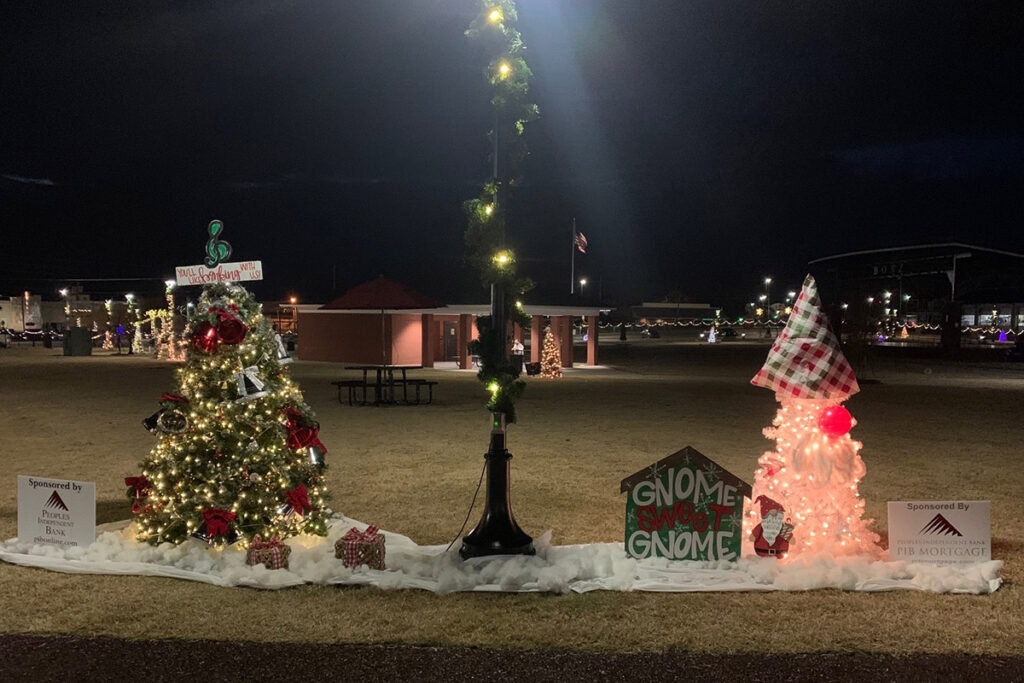 The Old Mill Park has some of the most cheerful Christmas trees from local businesses and organizations lined up within the walking trail. It is free to head over to see what unique ideas came through on their trees. You have until the end of December to see them.
14. Shopping at Cherrywood Market
The Cherrywood Market has some of the sweetest holiday decor for your home. From linens to garland and platters too. You can find a small piece to bring back to your home for the season.
15. MVAC's Holiday Art Market
The Mountain Valley Arts Council hosts a Holiday Art Market every year at Christmastime. Over 25 artists will have their pieces on display for purchase. Make plans to head over to see what you could bring home to a loved one this season.