Discover the Hambrick Bat Cave by Kayak
The Hambrick Bat Cave is a once in a lifetime experience if you want to really #explorelakeguntersville. Thousands of bats emerge at sunset just below the Guntersville Dam giving viewers a chance to see this endangered species.
What is the Hambrick Bat Cave?
North Alabama contains some of the most ecologically important bat caves east of the Mississippi River. One of those happens to be right on our open water. Hambrick Bat Cave is home to 60,000 gray bats that emerge from their home each evening at dusk. These bats are endangered due to their lack of suitable habitats. So, the Hambrick Bat Cave is protected with fencing to keep visitors out so the species can survive for generations to come. These bats are mesmerizing to watch and put on quite a show for those who come nightly. You even get a spectacular view of a one of kind Lake Guntersville sunset. The bats do hibernate in the winter, so viewings can happen from April to October with June and July being the best months.
Where is the Bat Cave?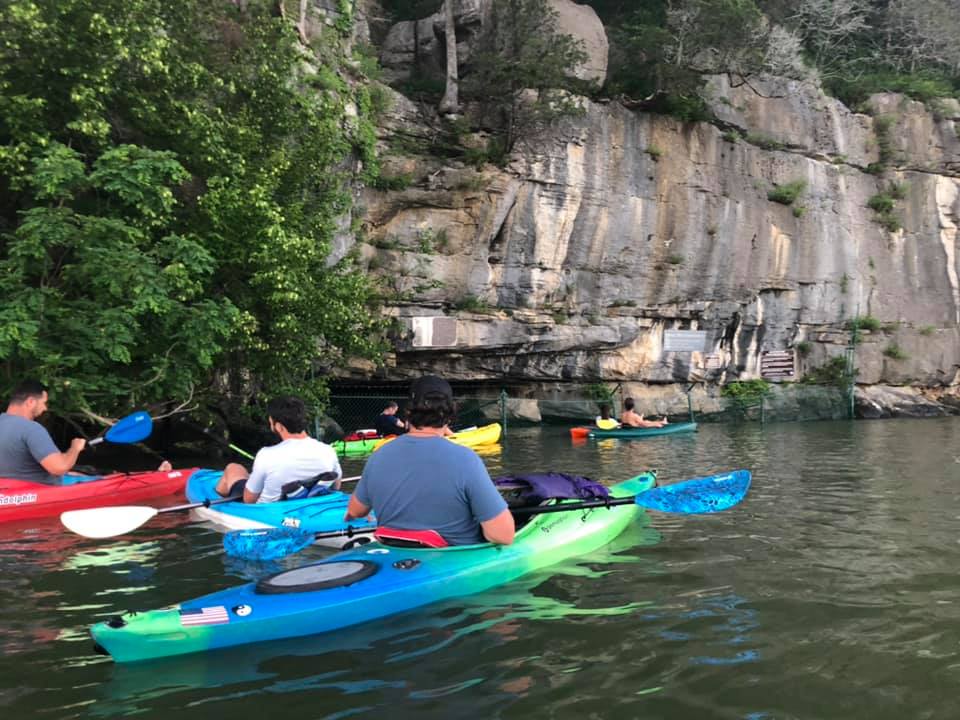 Glad you asked! The Hambrick Bat Cave is located about one mile from the Guntersville Dam. It is hard to miss once you arrive in the area. There will be a sign that states 'Gray Bat Sanctuary' with fencing to protect the cave. It is not accessible by land, and visitors cannot go inside the cave. There are a couple of spots to put your kayak in. One would be at the Guntersville Dam. However, please be cautious as the dam could be pushing water through its gates and could be choppy. It is only about a 20-minute paddle east to the bat cave. If you want to be a little more adventurous, you can put your kayaks in at this boat ramp in Honeycomb. This will be a much longer trek that will take over an hour. We recommend arriving at the cave well before sunset to find the best spot to anchor. If you are worried about the dark ride home, you shouldn't be! There is usually plenty of light from the sky above, but we recommend bringing a red head lamp as the bats cannot see that light, but other boaters will see you.
Do I have to kayak?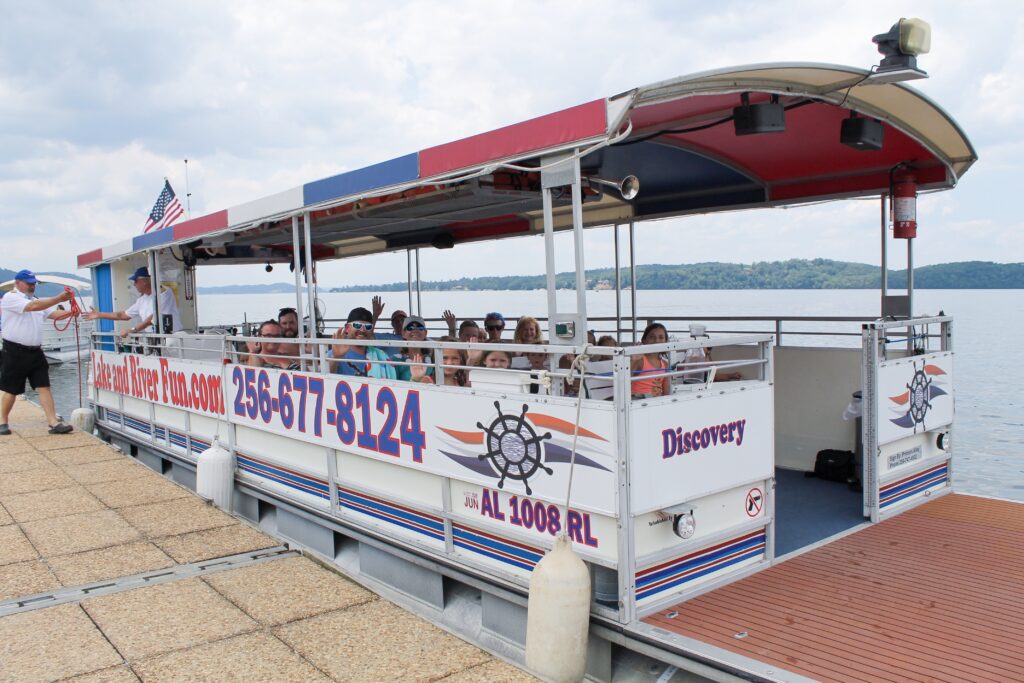 You don't have to kayak to see the cave. Other boaters on pontoons, jet-ski boats and even fishing boats all come out to see the bat cave. And if you don't have access to kayaks or any boat for that matter, you can take a tour! Lake and River Fun offers tours to the Hambrick Bat cave all season long. The owners have a fabulous pontoon boat (& they are expanding soon!) that will boogie with your favorite music and drinks right over to the cave for the viewing. Their tours fill up fast, so book as soon as you can. You can find their information here.
This adventure is one that should be on your Lake Guntersville bucket list! If it wasn't before, we hope we convinced you to put it there and get it done while you #explorelakeguntersville. Follow us on our Facebook, Instagram and Twitter to find all the best places to visit!