Catch Your First Fish on Lake Guntersville
Catching your first fish is a feat of its own but catching your first fish on Alabama's largest lake known for its impeccable fishing is an exciting moment that your child will remember forever.
Fishing is a pastime enjoyed by many across the U.S. and the passion for it always started with that first catch. Children are often impatient, and the exciting thrill of using all of their strength to reel in that first fish is never forgotten. The splash of the fish reaching air that surprises a child, and then the help from a parent or grandparent reaching down to pull it out is instilled in their brains that the love of fishing all began somewhere. Let that moment begin for your child on Lake Guntersville.
To celebrate the accomplishment of catching that bass, crappie or maybe even a catfish on Lake Guntersville, we are rewarding your kids! When you reel that fish in, snap a selfie and then upload it to your social channels with #firstcatchguntersville and tag us @explorelakeguntersville, and we will send your little one a sweet certificate to frame and a bait and tackle kit donated from our friends at SPRO Sports Professionals. To assure that we see your first catch, please also send us the fish to our email at info@explorelakeguntersville.com.
The certificate is signed by our President, Katy Norton and the Commissioner for the State of Alabama Department of Conservation and Natural Resources, Christopher Blankenship. So, this certificate is pretty legit, and your child will hold on to it forever.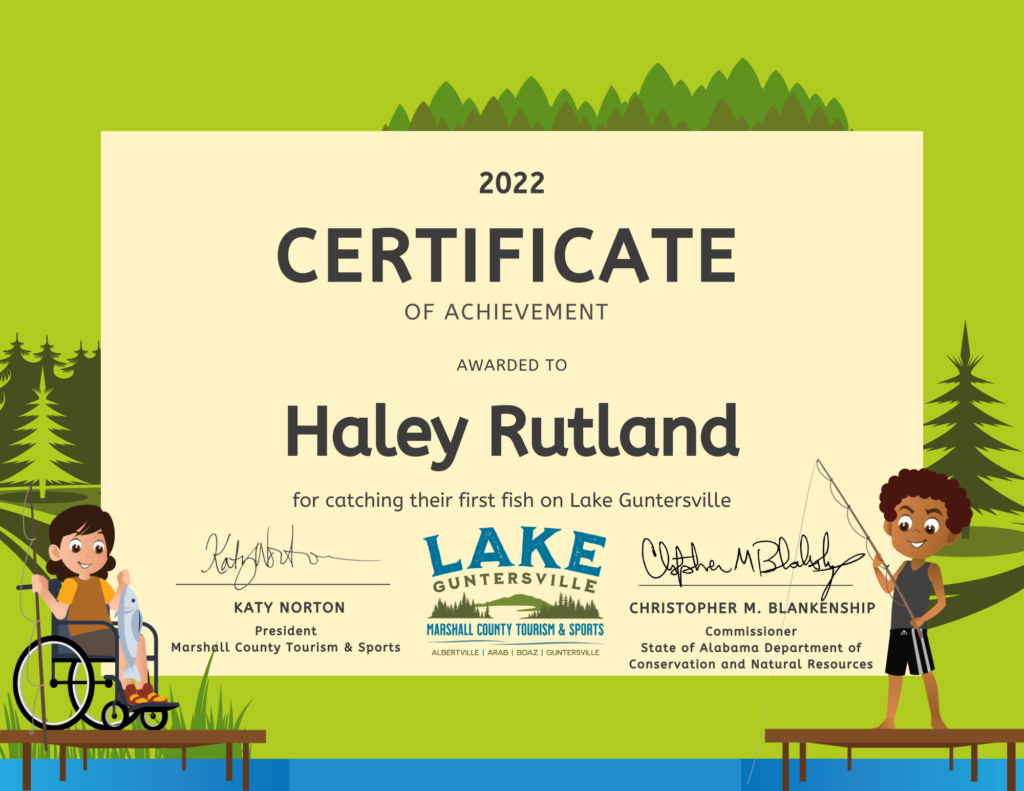 If you need pointers on how to get out and fish Lake Guntersville, check out our guide here.